Sudarshan Kriya Can Help Treat Depression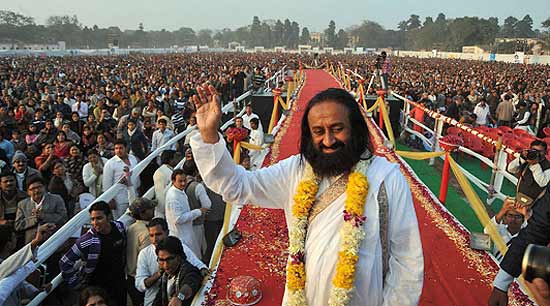 21 March, 2002
The Times of India
By Kalpana Jain
New Delhi
NEW DELHI: Yogic breathing exercise such as Sudarshan kriya has been found to achieve results as good as the best drugs in treating depression patients as well as alcoholics, say researchers at premier mental health institution, the National Institute of Mental Health and Neuro-sciences in Bangalore.
Presenting the results at a recently concluded international symposium, organised by the All-India Institute of Medical Sciences in association with the Times Foundation, additional professor of psychiatry BN Gangadhar said the results of this exercise compare favourably with imipramine, an established anti-depressant drug. Sudarshan Kriya is part of the stress management package offered by the Art of Living Foundation.
nother researcher at this institute, Dr A Vedamurthachar, found this exercise proving effective at the de-addiction unit as well. The 30 alcoholics, who agreed to participate in the study, were found to have reduced levels of depression and anxiety, he said.
The role of breathing exercises on depression patients was studied by Dr Gangadhar and his colleague N Janakiramaiah at NIMHANS as all available therapies had their limitations. Drugs are not only expensive but can have potential side-effects as well. Depression, which affects close to 350 million in the world, is the commonest mental health problem.
Dr Gangadhar, who carried out these studies systematically, with different groups of patients, using different techniques, reached the same conclusion in all: The exercises lead to certain neurophysiological changes which helps cure depression.
For instance, in one study he put the patients of acute depression randomly through either of the various treatments, such as shock therapy, drugs, or breathing exercises. The final results showed that the results may have been best with shock therapy, but the breathing exercises gave better results compared to drugs.
In another study, he put 46 patients of chronic depression on breathing exercises. At the end of a three-month trial 26, who were practising it regularly showed improvement, Dr Gangadhar said. Close to 150 patients have been studied by putting them on this method. The findings have been published in various national and international journals.
Dr Gangadhar said there are problems in doing such a study. For instance, it is difficult to get placebos and controls for a fair assessment. And it is not known yet for how long the effects of these exercise last. Also, he believes the courses need to be re-designed to suit the needs of specific patient group. In this case, he adds, the courses need to reduce the sessions on talking and incorporate only breathing.
For information on Art of Living, contact, Head, Institute Rotary Cancer Hospital, All-India Institute of Medical Sciences, Dr Vinod Kochupillai, Phone: 6516821.